The Crawford Lecture Series
The Crawford lectures were a direct result of the Crawford Workshop held here at the Royal Observatory in conjuction with the University of Edinburgh in April 2009.
Several discussions were held and the annual lectures were one of the positive outcomes on how to best utilise the collection with the collaboration of international and national academics in the field of the history of astronomy.
This year the series continues and the hope is to continue with a new lecture each year presenting a different topic highlighting some of the items from the collection.
The Crawford Lecture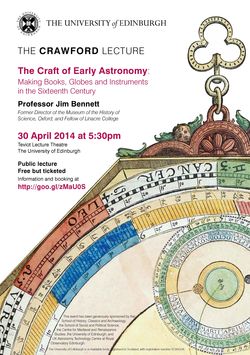 "The Craft of Early Astronomy - Making Books, Globes and Instruments in the Sixteenth Century."
by Professor Jim Bennett, Former Director of the Museum of the History of Science, Oxford, and Fellow of Linacre College.
Centre for Medieval and Renaissance Studies
30th April 2014 17.30 to 18:30
University of Edinburgh
School of History, Classics and Archaeology
Old Medical School, Teviot Place
Edinburgh
EH8 9AG
United Kingdom
This event is ticketed but free. To book a ticket, please go to:
http://www.eventbrite.co.uk/e/the-crawford-lecture-tickets-11281861351?aff=es2&rank=1