2012 ROE Open Days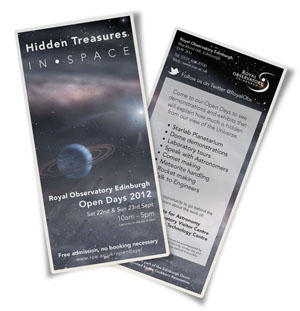 Hidden Treasures In Space
The ROE Open Days in 2012 took place over the weekend of the 22nd and 23rd of September.
Open Days Flyer 2012 [PDF/204 KB]
Thanks to all those who attended. We had 2752 visitors over the weekend. We hope you had an enjoyable time.
We had a prize draw this year with many fabulous prizes including a signed copy of Sir Patrick Moore's book "Can you play cricket on Mars".
Prize Draw Results
Congratulations to our Open Days prize draw winners!
Josianne Lachapelle, from Edinburgh, won the signed Peter Higgs photograph, donated by the School of Physics and Astronomy, University of Edinburgh.
Patrick Öhberg, from Edinburgh, won the sign Patrick Moore book.
In the kids' competition, we looked through all the fantastic drawings of peoples' favourite things from the Observatory, and choosing winners was really difficult. But, we chose these 2 drawings:

A lovely drawing from Murray Tasker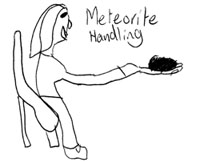 A very nice drawing from Hannah Monk
Murray Tasker, from Edinburgh
Hannah Monk, from East Lothian
Both Murray and Hannah won some goodies from UK astronaut Tim Peake and a family ticket to one of our Public Astronomy Evenings.
---
Go behind the scenes and learn about the work of The Institute for Astronomy, The Royal Observatory Visitors Centre and The UK Astronomy Technology Centre.
The ROE Open Days are part of the Edinburgh Doors Open Day, organised by the Cockburn Association.