2011 ROE Open Days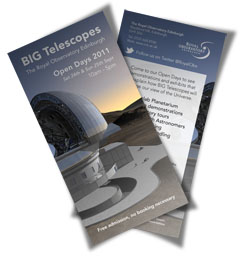 The ROE Open Days this year take place over the weekend of the 24th and 25th of September. We are open on these days from 10am to 5pm. The open days are free and you don't need to book in advance, just turn up on the day.
The theme this year is BIG Telescopes and our demonstrations and exhibits will explain how BIG Telescopes will change our view of the Universe.
The Open Days give you an opportunity to see our site and the architecture of our historic buildings. Have you wondered what we have inside the green domes?
We run various activities as part of the Open Days including:
Starlab Planetarium
Dome demonstrations
Laboratory tours
Speak with Astronomers
Comet making
Meteorite handling
Rocket making
Talk to Engineers
Go behind the scenes and learn about the work of The Institute for Astronomy, The Royal Observatory Visitors Centre and The UK Astronomy Technology Centre.
2011 ROE Open Days Leaflet [PDF/ 185 KB]
The ROE Open Days are part of the Edinburgh Doors Open Day, organised by the Cockburn Association.