2015 ROE Open Days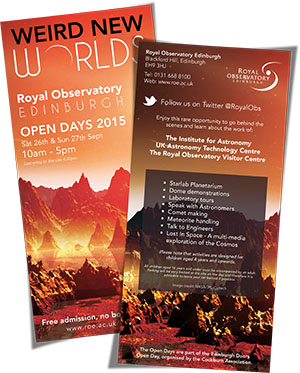 Weird New Worlds
The ROE Open Days for 2015 took place over the weekend of the 26th and 27th of September.
The theme this year was Weird New Worlds
Open Days Flyer [PDF/1 MB]
Thanks to all those who attended. We had over 3000 visitors over the weekend. We hope you had an enjoyable time.
---
Go behind the scenes and learn about the work of The Institute for Astronomy, The Royal Observatory Visitors Centre and The UK Astronomy Technology Centre.
The ROE Open Days are part of the Edinburgh Doors Open Days, organised by the Cockburn Association.