Dr Tim Garn - Messages of Condolence & Memories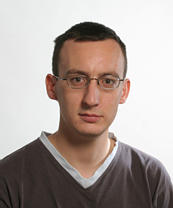 Dr Tim Garn 1982 - 2010
We will add to this page your messages of condolence or memories and anecdotes you would like to share.
If you would like to make a submission please send your e-mail to webmaster@roe.ac.uk
There is also a facebook group for Tim.
---
From: Dr. Philip Best
I am filled with sadness by Tim's tragic and untimely death.
Tim was an outstanding scientist, always enthusiastic about his work, energetic, and most of all extremely talented, continually surpassing expectations. Despite this, he remained modest and unassuming, which only added to his likability.
Nature has cruelly taken Tim away far too early. It has cut short an extremely promising research career, and deprived the world of a truly fine young man. I know I speak for many in saying that I shall miss him very much. My deepest condolences go to his family.
---
From: Neal Jackson
I was very shocked to hear the sad news about Tim. I'm sure he will be remembered by all who came into contact with him on the LOFAR project as an energetic and effective researcher; and also as a really excellent person to work with, who always devoted time and effort to making what he was doing available for others to benefit from. With all my condolences to his family and friends.
---
From: George Miley (past Director, Leiden Observatory)
All of us at Leiden were shocked to hear about Timothy's tragic death. As part of the LOFAR Surveys team, Timothy spent long periods in Leiden during the past year. I had several interactions with him and I am confident that he would have gone on to make important contributions to science. He will be missed greatly.
Please convey the deepest sympathy from all of us at Leiden Observatory to Timothy's family, friends and colleagues.
---
From: Bill Rose, Secretary, Killin MRT
Killin Mountain Rescue Team members express deepest sympathy to Timothys parents, family and friends for their tragic loss. We were all deeply saddened and upset that, after locating Timothy, we could not return him safe and well from Ben Lui.
---
From: Paula Wilkie
I would just like to express my deepest sympathy for Tim's family at this terrible time. I worked with Tim on the LOFAR workshop last year. He was not only an exceptionally sharp guy, he was a gentle man who was a joy to work with. He will be missed.
---
From: Louise Ker
I was very shocked and saddened to learn of the tragic news about Tim.
One of the first conversations I had with Tim was at a Lofar meeting, when he reassured a somewhat over anxious first year that it really was normal to spend the better part of a year learning the ins and outs of radio astronomy, & to keep persevering!
Having worked with Tim over the last year on various Lofar commissioning activities, I always found him to be a patient and inspiring person to work with, always happy to help, and a real gentleman who will be sorely missed by all who knew him.
My very deepest sympathies to his family and loved ones.
---
From: Emanuela Orru'
Is is a tragic news for me to hear about Tim's early passing. I am a colleague and a friend from Tim. I met him last year in Leiden and we worked together for LOFAR and for the cookbook (his great idea). It was a very good researcher, we shared a lot of laughs, I will always remember his sweet shy smile.
I recently lost my young mom after a long illness, I understand the painful and inconsolable moment you are living... I am experiencing it too..I just want to know that I am close to you even if I don't know you personally.
Condolences
Emanuela Orru'
---
From: Mr. P Jones
It was with extreme sadness that I learnt about Tim's death. He was a sixth form student during my tenure as Head of Sixth at Fullbrook School. His tremendous intellect and capacity for hard work were immediately obvious and clearly he was destined for the highest academic achievements. He was, in that overused phrase, a model student, very focused and hardworking, possessing a keen sense of humour and with many interests outside of his work. He achieved much in his short life and will be missed by colleagues and friends alike.
I offer my profound sympathy to his parents, Carolyn and David and to his sisters, Jenni and Margaret and his brother, Andrew.
---
From: Chiara Ferrari
I have worked shortly with Tim within the LOFAR project, but it was immediately clear that he was an extremely kind and gentle person, as well as a talented colleague. We will miss him a lot. I express my deepest sympathy to his family and friends.
---
From: Visweshwar Ram Marthi
It is with great sadness and shock that I learn of Tim's untimely death. I have had the pleasure of his acquaintance during his visit to the GMRT for observations for his PhD work. Tim was gentle, soft-spoken and pleasant to talk to. My condolences to his family and friends for whom this is an irreplaceable loss.
---
From: Huib Intema (Jansky Fellow)
Yesterday I received the tragic news about Tim, which has come as a great shock and surprise to me. I knew him from several LOFAR meetings, and we worked together in Leiden for several weeks last year. He was a smart and knowledgeable person, yet very keen on learning more. I much enjoyed his easy company and dry humor. I wish everyone, especially Tim's family and close friends, much strength in coping with this reality.
---
From: Sally Hales, Cambridge
Like everyone, I have been knocked sideways by this tragic news. During Tim's time as a postgrad here in Cambridge I found him an easy and generous person to work with, very able and highly intelligent but always wearing his intelligence modestly - with his dry sense of humour and cool capability always keeping a sense of proportion about the task in hand. All who knew him will miss him.
My sincere condolences to Tim's family and all those close to him.
---
From: Michael Garrett (General Director of ASTRON)
I'm shocked to learn this evening of the untimely death of Tim Garn. I did not know Tim well, but his quality was clear for all to see. Talking to him after the excellent presentations he made at various LOFAR meetings, I was immediately impressed by his knowledge and ability, but even more by his modesty and gentle manner.
Tim would surely have made fundamental discoveries with LOFAR. It is tragic that this opportunity was denied to him. The personal loss to his family is however far greater. My sincere condolences to his family and to all his colleagues at ROE.
---
From: David Sobral
There truly are no words to quantify the shock and sadness that Tim's death has brought to the lives of all who knew him.
Tim was such a great person to work with: enthusiastic, brilliant, modest, rigorous and, most of all, with the ability to ask the right questions. Despite being greatly involved with LOFAR, Tim was also making important contributions using HiZELS data and I was lucky to have had the chance to learn so much by working directly with him.
The world is a poorer place without Tim, and he will be greatly missed, but his contributions and memory will live on in each and everyone of us. My deepest condolences to his family.
---
From: Mr Graham Senior
I had the privilege of being one of Tim's teachers at Fullbrook School in the late 1990s and for a brief time, I was also his tutor. It was clear from the moment he stepped into the classroom that he possessed a rare intellect and it is therefore all the more tragic that a life with such potential should be cut short in this way. He will be greatly missed.
Graham Senior (now at Christ's College, Guildford)
---