Dr Tim Hawarden - Anecdotes & Memories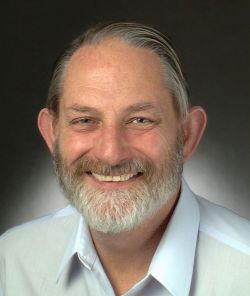 Dr Tim Hawarden 1943 - 2009
We will add contributions to this page if you have any memories or anecdotes you would like to share.
If you would like to make a submission please send your e-mail to webmaster@roe.ac.uk
---
From: Bill Duncan
I have lots of memories of Tim, both professional and personal. What sticks with me though, is the fine hospitality of Tim and Frances and Tim's leisurely (nay, laggardly) approach to (to me at least) the important part of a dinner party – the food.
So to relate a typical experience:- my family had many happy times visiting Tim and Frances in their home in Hawaii, often for dinner or lunch. The main course was often bouillabaisse. Tim and Frances were lovely hosts, sharing themselves warmly with us and Tim relating many stories. Tim would ply us with drinks, but would seem to forget about the cooking! Our stomachs would be grumbling, but still no food. After a couple of hours, we would make remarks, such as,
'Tim, perhaps we had better go and bring some pizza?'
'Do you need some help in the kitchen?'
'Perhaps we should catch some fish?'
'Oh, for some fish and chips!'
All such pointed remarks seemed to wash over Tim in his wonderful bonhomie…
However, eventually he would remember how important food was and 'get down to it' (usually with several reminders from Frances) and what bouillabaisse was the result! In my taste far better than the 'stuff' to be had over the channel.
So many happy and fond memories of Tim.
Thank you Tim (and Frances) for those memorable and close times.
Bill (Duncan)
---
In Memory of Tim Hawarden from Maren Purves
In case you ever wondered what got me to Hawaii, Tim Hawarden was the first person I ever talked to who had anything to do with me getting here and this whole outfit. In the summer of 1986 my phone rang. It was to invite me to a job interview in Edinburgh, Scotland. The person who called was Tim. At that time he was the "UKIRT Astronomer in Charge, Home End". I went to Edinburgh, my second time ever on an airplane, and while things didn't work great (I came in about 5th for 3 jobs, but in the end 2 people pulled out, that's another story), I ended up here. Tim's wife Frances, about the second person in this whole outfit I ever talked to, made my travel arrangements, first for the job interview in Edinburgh, later for my second interview in Hawaii, and eventually to move here.
I got to Hawaii in January of 1987. Imagine my surprise when in the summer of 1987 Tim and Frances came here too. Frances had retired for health reasons, and Tim came to UKIRT. I was working at the JCMT then. I remember applying for a job at UKIRT, where I had worked as a temp for several months in 1990 or so. I remember Tim quizzing me about servos and eventually saying "OK, I know you know more about servos than I do". I the years to come I went to the CSO and Tim oversaw the UKIRT upgrades program - and a few other things. He was still there when I went back to UKIRT now almost 13 years ago. They moved back to Edinburgh some time later. I had the opportunity to visit with them (and their cats) last in 2006 after Tim had retired to take care of Frances who has MS (which is why she retired in the first place) full time. I love both of them, as well as Miranda and Sam (Tim's children from his first marriage).
God bless all of them.
(Maren Purves)
---
From: Matt Mountain
The first time I really met Tim I was in my office, newly arrived in Edinburgh, when this force of nature burst in with, "Matt, you need to come and look at some galaxies!" Tim then dragged this infrared astronomer to the "plate library" to be educated about plates, those small black monocle-like magnifying glasses, galaxies and thrown in for good measure, a smattering of Tim's exploits which seemed to include parachuting through the roof of a bar in South Africa. And so began my twenty-year association with one of the most enthusiastic, creative, generous, and (at times maddeningly) optimistic astronomers I have ever known.
It was an incredibly creative time to be in Edinburgh. UKIRT was coming into its own, infrared arrays were for the first time becoming available, the James Clark Maxwell Telescope was being built, and Tim was in the thick of it, encouraging and cajoling us all to think differently, to take risks, but always leaving his own ego out of the mix. Though we didn't know it at the time, we were in the presence, and under the influence of a remarkable leader.
Whether we were discussing barred galaxies, IRAS databases, UKIRT observing trips, infrared instruments or what food or wine to bring around to (the many) parties, Tim could always be relied upon to be original. (Have you ever tried cod-roe caviar with Greek yogurt on water crackers washed down with malt whiskey?) One example came to light after Tim moved to Hawaii. I was still in Edinburgh, and was called in by Malcolm Longair (Director and Astronomer Royal of Scotland at the time) with the instructions to intercept Tim. He had managed to get himself invited to present a new mission concept in front of ESA in Paris – and none of us had any idea what he was up to. He duly turned up with a pile of hand drawn view-graphs he had made on the plane outlining the whole passive cooling concept for a mission called POIROT. In utter disbelief that (a) the idea was even feasible, and (b) that ESA would find the charts legible, the entire ROE engineering team spent the next 48 hours (over the weekend) tearing Tim's idea apart and then putting it all back-together again, abet with thermal models and computer generated charts. As those of us who knew Tim had come to expect, what the ROE team found was, well, yes, allowing an infrared space telescope to passively cool to cryogenic temperatures in deep space without needing to launch cryogens would work; and was a rather good idea. So good an idea in fact, that today it is the chosen cooling scheme for the successor to Hubble Space Telescope and Spitzer Space Telescope, the mighty 6.5m James Webb Space Telescope.
Those of us who were privileged to know Tim, to have worked with him during that seminal weekend in 1989, and over the subsequent years, will raise our glasses of the finest malt, in memory of the most generous friend and astronomer we have known and toast Tim Hawarden's legacy as the James Webb telescope takes up its station in 2014 a million miles from earth.
Matt Mountain
NASA Telescope Scientist, James Webb Space Telescope
Director, Space Telescope Science Institute
19th November 2009
---
From: Andy Lawrence
Some years back, outside a tourist shop in Kyoto, I took a swig from a can of coke, only to be stung by a bee that had just landed inside the can. I spat out the bee, but it still hurt like hell. Tim whipped out his pocket knife, looked me in the eye, and said firmly "Open your mouth wide and keep very still". He exuded such a bold confidence I did exactly what he said. Tim gently dug into the soft flesh in the roof of my mouth, then proudly showed me the sting on the blade of his knife. "Wow" I said, "where did you learn to do that ?" There then followed a big jolly Tim-type laugh. "Well…" he said, "I have never done that before. But it seemed better not to mention this until after I'd finished !"
---
From: Iain Coulson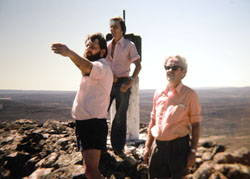 Tim Hawarden with SAAO staff Brian Carter (behind) and Drummond Laing (right)
I dug out this photo (slide) of Tim taken in 1979
It shows Tim with SAAO staff Brian Carter (behind) and Drummond Laing (right) atop Salpeterkop - a volcanic plug south of the Sutherland site of the South African Astronomical Observatory. Tim was the observer on the 40-inch prior to my first ever solo run as a staff astronomer, and he instructed me in the wizardry of operating the St.Andrew's Photometer and its plug boards. I shall always associate him with the excitement and magic of those early days, but it was also motivating, seeing him in Hawaii and elsewhere in later years, that his own enthusiasm never seemed to wane.
The photo shows perhaps how we should remember him - and I don't just mean the short shorts ! . . . On top, and charting a new course.
---
From: Tom Geballe
Tim's incredibly fertile mind and his enthusiasm for both his science and others' science was a great benefit to all of us who worked alongside him in Hawaii. His all-encompassing grasp of the UKIRT Upgrades Program and his facility at explaining it to the committees that had to support it and arrange for its funding were key to its success, and thus to UKIRT still being with us at its advanced age. I traveled to numerous Board meetings with Tim and never ceased to marvel at his on-the-fly ability to get committees to see that multi-faceted project rightly as a whole composed entirely of essential parts.
Tim loved to tell the following story (I heard it from him a few times) and I believe that he would be delighted, especially in the present circumstances, if more people knew about it. I hope that it does not offend Frances, so perhaps she should be asked before it is posted.
When Tim's first wife died, after they were divorced and after he and Frances were together, Tim took her ashes to the sea to be released, and Frances accompanied him. Together they stood on an outcropping above the sea and Tim opened the container. Just at that moment an onshore gust of wind came up and instead of the ashes dispersing into the water they were blown back onto both of them!
- Tom Geballe
---
From: Richard Ellis
It seemed whichever UK telescope I wanted to use, Tim Hawarden was already there in complete command.
My first real opportunity in observational astronomy was gathering plates at UKSTU for use with the newly-commissioned Cosmos machine. Tim helped this young novice get started (as well as introducing him to Huntsman spiders). Not that much later, when I appeared at UKIRT eager to do photometry of distant galaxies, Tim was there also. Same boundless enthusiasm and great humor, same willingness to help and no impatience with my naivety.
Likewise, whichever SERC committee I joined, Tim was already on it.
We got to know each other really well through the 80's. This was a great period for UK astronomy. Tim also visited us in Durham. I became wary of inviting him to our house too often after my wife Barbara admitted to me that Tim was just about the most gorgeous astronomer she'd met!
I last saw Tim at the UKIRT celebrations only in September; same terrific guy. A beacon of good spirits and an example to us all.
Richard Ellis
---
From: Anneila Sargent, Caltech
Like everyone, I found Tim a wonderful person. Of course he will be "sadly missed" - totally inadequate words to describe his effect on his world. My sympathies to family and friends.
---
From: Glenn White
I knew Tim for more than 30 years, since the earliest days of mapping the optical Universe with photograph emulsions with the SAAO Telescopes at Sutherland and the UK Schmidt Telescope at Coonabarabran - through to the exciting years of exploring the newly accessible near and far infrared Universe with the UKIRT telescope – and beyond… His contribution to the development and use of these facilities is indelibly etched on the successes of the generation(s) of scientists who have followed.
Tim's legacy in pushing the envelope of modern astronomy was immense – his contributions ranged from fundamental work to establish standard calibration sequences that have benefited the whole of the astronomical community, through to his vision, leadership and development of innovative new ground and space based projects aimed toward the search for exo-earths – before most of the community had even heard of the word 'exoplanet'. His work on new space mission projects such as ISOCAM, EDISON, GISMO, and on next generation ground based telescope instruments for UKIRT, the ELT, was pivotal to the evolution of modern astronomy. Tim's astronomical research included innovative work on star clusters and red giant stars, and the structure of nearby galaxies, and provided important new insights to the physics of the nearby Universe.
Astronomy aside, I remember Tim as a really nice, friendly, gregarious and approachable friend with a deep enthusiasm, joie de vivre, and inquisitiveness about the physical world surrounding us. I regret that I will never again have a chance to enjoy a passing chat with Tim in a corridor in some distant land.
---
From: Malcolm Smith
For me, Tim's life has provided an example of so much of what is good about the ROE. During his time at ROE, Tim contributed significantly to our sense of fellowship and dedication to excellence - in the West Wing at Edinburgh, UKSTU/Australia and UKIRT/Hawaii.
Tim quietly contributed scientific thought that influenced activity well beyond ROE. One example that immediately comes to mind was his advocacy of passive cooling on infrared satellites as an acceptable solution to budgetary constraints and downsizing; he faced extraordinarily harsh criticism from one space program for suggesting this. Those same critics eventually came to realize (several years later) that Tim's fairly simple calculations and patient advocacy - always done in the best interests of helping get good science done - were correct and provided the way forward to allow a major, eventually successful project to be funded. Passive cooling is often considered, now, a fairly "standard" solution.
Thanks, Tim, for your courageous and cheerful example of how to live a good life with your obvious care for others.
Saludos desde Chile,
Malcolm and Anamari
---
Tim Hawarden - an appreciation, from Alan Penny
Tim was the kind of colleague who made astronomy both fun and an adventure. Enthusiastic, innovative, friendly, hard-working, knowledgeable, honest, open, uncynical (perhaps sometimes even too much so) and with a love for astronomy and life.
I worked with Tim in 1971-73, first at the Royal Greenwich Observatory and then at the South African Astronomical Observatory, and secondly from 1992 to 2004, first helping him on the Edison proposal and then when he worked with the Darwin study.
In 1971 Tim had come from what was still then the Royal Observatory Cape to the RGO to learn about the electronographic camera, an early imaging system, which I was also working on. One of my memories was from the cricket match at Sir Richard Woolley's leaving conference. Bowling, for the ' RGO', against the then young Tim, batting for the 'Rest of the World', was a different task than bowling against middle-aged Americans who had never held a cricket bat before.
Then at the young SAAO I remember cold nights working with Tim at the 20-inch telescope on the Sutherland plateau. As the electronographic camera did not materialise until much later, Tim showed his intensely practical and supple sides by not worrying but keeping on with his own work, consequently finishing his PhD two years before I did.
Tim moved onto the UK Schmidt, the ROE and then Hawaii, and I was not to work with him again until 1992, when the RAL deployed me as a UK space scientist onto Tim and Harley's Edison proposal. After many difficulties this eventually lead to Tim's idea of passive cooling for infrared space telescopes accepted as the standard. It was not only great to be part of such an important project, but exciting to be carried with Tim and Harley into the highest levels of ESA and NASA politics. A snow-bound Washington DC when Tim, Harley and I were the only people able to brave the snow to reach a NASA infrared committee meeting is only one of many memories. Tim later contributed for many years to ESA's Darwin study, an input which was much valued.
One of the pleasures of working with Tim was that he listened. Occasionally I would come up with a useful idea and Tim would greet my input with respect and, if appropriate, accept it. You could say anything to Tim.
Tim was an inspiration. I miss him.
Alan Penny
---
From: Simon Craig
I have one that in our safety conscious days we perhaps should not tell...
During the early days of the UKIRT upgrades, Tim and I were at UKIRT for some night measurements. Eli and Colin Humphries were there doing prime focus imaging and Thor was the TO (even then he always got the good jobs....)
We had got some good results when Tim got the idea the we needed to do a knife edge test. Of course we had no knife edge so to simulate one Tim and I went up in the Topper. Of course, the telescope had to be tracking while this was going on. This meant I had to drive the topper so the trusses would not hit it while Tim held a steel rule or something like that to simulate the knife edge. We achieved this eventually and somehow managed to extricate the topper from the telescope and get down to ground level.
Needless to say thinking about it afterwards I realised what a stupid thing to do, especially of Thor accidentally put the telescope in slew... Tim never seemed that bothered and I'm sure he would have done it again if he could get me to agree.
Simon
and an old Tim H. email that demonstrates his love of AAAAAARRRRGHeology:
Dear All (and some less dear),
As I have become tired of holding my nose when getting milk for my coffee I impulsively began to clear out the Fridge.
I should probably not have. I am fairly, but not TOTALLY, certain that nothing I have found so far needs to be communicated to the Feds for the repatriation of ancient remains, but its a near-run thing. Some of what I found was probably a federal offense in its own right anyway.
Dating in AAAAAARRRRGHeology is never certain, and since I do not have rapid access to accellerator carbon dating I have employed a three-level triage system
1. Biohazards.
1.1 Things deemed to be in this group have been disposed of already (staff are advised NOT to poke things into bins without looking - you could regret it) or
1.2 .. tied tight in their plastic shrouds. THESE LAST REMAINS ARE IN TUPPERWARE COFFINS. If the owners want (are robust enough?) to claim and recycle them, they are welcome. Best come at dead of night (so the oppobrium won't stick) and maybe bring a stake. You never know. Actually the DEADline is 13:55 today, when they go out, tupperware and all.
NB: Some cultural artifacts may lend clues to the identity of the originators: two of the tupperare-coffin burials-to-be are equipped with eating utensils of a characteristic type: they are on top of the wrappings.
2. Certainly old, or dubious.
Anything with a sell-by date or other date evident which is pre-NOW heas been exhumed and is on display in the site museum (middle table, coffee room). (Record is 1997.) Ditto everything which just _looks_ old.
(Some prize examples from Group 1 are on display just for fun(?) - do NOT touch!!)
3. Probably recent
If they look like _I_ might consider eating (as opposed to shooting or burying) them I left them in the fridge. Hope I guessed right.
Cheers (yuck)
Tim hawarden
Simon Craig
---
From: Peter Stockman
This is very sad news indeed. Tim and Harley were early proponents of large passively cooled space telescopes in the late 1980s and early 1990s. They wrote two proposals to ESA for ~ 2-3m class telescopes in which passive cooling would be used for the bulk of the telescope and would serve to sink the 100s of milliwatts dumped by an active cooler --Joule-Thompson I believe -- that pulled the detectors and primary mirror down to a few degrees K. Tim became an expert in passive cooling design and thermal modeling at cryogenic temperatures. He was also involved with the STScI proposal, High-Z, that eventually led to NGST-JWST.
We have lost one of our founding fathers.
Peter
---
From Tania Johnston, ROE Visitor Centre
With the many school groups who visit us during the day, most of them ask for a 'Meet the Astronomer' session, and I would estimate that Tim did about 80-90% of these in the time I've been here. He was so enthusiastic with the children, and always keen to chat more to those extra-interested pupils.
Tim was a lovely man who led a very interesting life. I learned so much from him, just through sitting in on his Q&A sessions with the kids, and never tired of hearing about his life in astronomy and how he answered certain questions. Tim will be sadly missed by many of us here in the Visitor Centre.
Kindest regards,
Tania
---
From: Professor Gary Davis, Director JAC and Dr Andy Adamson, Associate Director, UKIRT
Tim Hawarden: The JAC Perspective
Tim Hawarden spent many years at the JAC as the Head of UKIRT Development. His passing has saddened all those who knew him here. Much of the observatory's current productivity is the result of Tim's work, and we have some reminiscences which many who knew Tim will recognise.
Tim's technical understanding of the instrumentation was commensurate with his huge experience, and he knew how to get the best data for visiting astronomers - sometimes insisting on getting to the background limit by using long exposures, contrary to the visitor's instinct. But with all this knowledge and experience, Tim remained modest: he tended to claim, even near the end of the Upgrades project (about which more below), that everything he knew about telescopes he had learned from the "Amateur Telescope Maker's Handbook. True or not, it's hard to dispute that he picked it up pretty well!
Most people who knew Tim recall his ability to discourse at length on all manner of topics, from the astronomical to the earthly. More than one person at the JAC has had the benefit of many hours of discussion with Tim. Occasionally these discussions led quickly nowhere: for example, one of us (AJA) chatted over the backs of envelopes about filling the UKIRT focal plane with contiguous optical fibres, with bundles of fibres feeding an array of UIST-like spectrometers. A fabulous scheme, wonderfully grand in concept, but foundering on the realisation that the glass alone would have weighed many tons. More typically, though, these technical discussions ended up confirming that Tim had been right all along.
Tim was perhaps best known for his leadership of the UKIRT Upgrades project in the early 1990s. This included a sweeping range of changes to the telescope and its enclosure, aimed at improving the telescope's performance to the maximum extent possible. By the end of the decade the fruits of the programme were apparent, with sub-arcsecond images very much the norm.
Two articles from the September 1998 issue of the UKIRT Newsletter demonstrated the success of the programme. Tim had driven through, as only he could, a rigorous programme of measurements of the optical quality with IRCAM. This histogram of delivered seeing was extraordinary, with a peak below 0.5 arcseconds. For a telescope originally designed as a light bucket with an image quality of 2 arcseconds, this was a fantastic result. Elsewhere in the same issue there was a science article which showed a white dwarf binary with a separation of 0.7 arcseconds clearly (and rather easily) resolved. And of course on the back page was an image which adorned Tim's office door for a long time: the "Best ground-based image ever achieved without the use of AO". The achieved FWHM of 0.171 arcseconds speaks for itself.
It is perhaps less widely known that the Upgrades project, carried out as it was over a span of several years, was subject to major shifts in finance. Funding for the work had, in some years, to be generated in ways best described as creative accountancy. In conversation, it sometimes seemed that this was one aspect of the programme of which Tim was particularly proud, or at least had the most fun recounting.
UKIRT occupies a privileged position on one of the best observing sites in the world. By the end of the Upgrades programme, the telescope was truly worthy of that position, and we are still reaping the benefits to this day. We are currently engaged in a world-leading survey programme; we have submitted a proposal for a new instrument to search for nearby Earth-size, habitable-zone planets; and earlier this year, UKIRT was the first ground-based telescope to image the afterglow from GRB090423, the most distant object ever detected. None of this would have been possible without Tim Hawarden, and the observatory owes him a great debt.
---
From: Chris Davis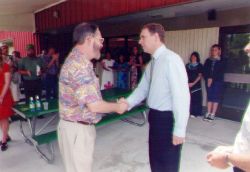 Dr Tim Hawarden with HRH The Duke of York
Can't believe that such a lively and vivacious character has been taken from us so suddenly. He seemed his usual self when we last saw him a few months ago - full of beans and as enthusiastic about astronomy (and life in general) as ever.
I certainly learnt many things from Tim - I remember the series of lectures he gave on UKIRT shortly before he left, which illustrated the depth of his knowledge and just how far ahead of the rest of us he was.
But the thing that sticks in my mind the most was the royal visit back in July 1999. Standing next to Tim with HRH Prince Andrew in the large conference room, eating vol-au-vents and trying to thing of questions for Andrew that didn't involve his wife or mother, is still one of the most surreal experiences of my life. I think most of us quickly got fed up with the royal etiquette and simply pretended HRH was a PPARC big-wig, but Tim stuck to his guns and addressed Andrew appropriately until he eventually wandered off to Gemini.
---
From: Adrian Russell, North American ALMA Project Director
I met Tim on my very first day at ROE. I was fresh out of University and had been assigned an office in the West Wing for a few weeks before moving out to Hawaii. At some point in the morning the multiple coffees took their toll and I set off to avail myself of the facilities in the West Wing.
Since there were no urinals in those toilets, I stood in one of the cubicles and went about my business. Suddenly I heard this booming voice from next door...
"So if you send a satellite out to L2 and shade it from the sun, how cold do you think it will get then?"
I started to babble...
I few moments later I emerged to meet Tim Hawarden. Tim finally introduced himself and proceeded to educate me about the most innovative idea in space astronomy for decades.
Tim was an immense character. His enthusiasm was addictive and all of those who had the privilege to know him and work with him miss him immensely.
Ade
---
From: Phil Puxley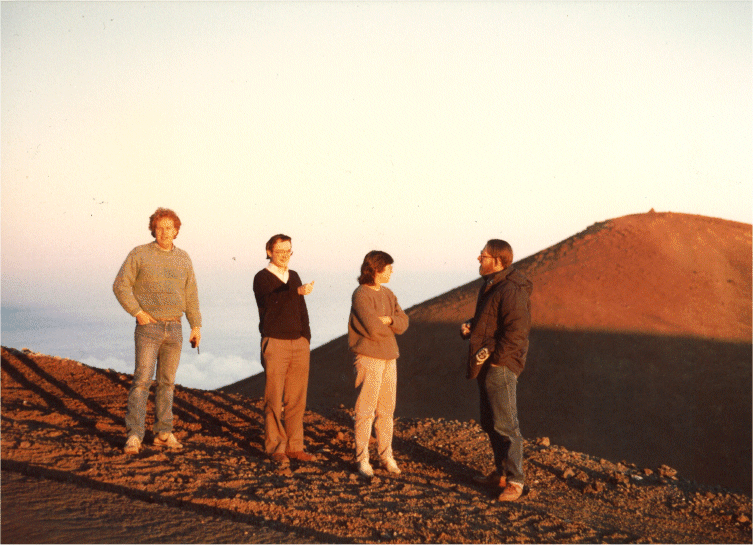 Tim, Matt Mountain, Sandy Leggett and Mark Yates on Mauna Kea (March 1986)
I was one (possibly the only one?) of Tim's PhD students. Tim or, if I was feeling cheeky, Timbo, or "Boing" as he was irreverently called by some of the infrared students in and around the ROE West Wing due to his Tigger-ish enthusiasm, was simply irrepressible and immediately impressed with his tremendous love of galaxies, broad knowledge of astronomy and kind character.
The attached picture is from my first ever observing run at UKIRT in March 1986, with Tim, Matt Mountain, Sandy Leggett and Mark Yates. Ever the teacher, Tim is instructing Mark how to occult the sun with his thumb to assess the quality of the conditions.
On another observing run, Tim, Richard Wade and Ron Beetles took me round to the Kona side for my first snorkeling experience. Not knowing that there were easier entry points, I gamely followed Tim off the rocky shore and had a great time until it was time to get out. This required a penguin-like ability to time the wave crest and avoid a painful encounter with the rocks, coral and sea urchins. After a couple of aborted attempts, and a fair bit of cursing, mostly to the amusement of Richard and Ron who had wisely stayed on land, we got out only to find I had collected a small gash on my hand. Echoing Andy Lawrence's anecdote, this was the perfect opportunity for Tim to demonstrate his boy-scout-like preparedness and out came two miniature bottles of whisky, one to sterilize the cut and the other to soothe the nerves.
Tim's wide-ranging interests are well-recorded by others and sometimes this made it a little tricky to get his supervisorial attention. As a result, I got to travel widely with Tim, most frequently to the Morningside shoe repairers, locksmiths and other local merchants as he did his chores and simultaneously answered my questions.
Tim, so many thanks for your friendship and mentoring.
---
From: John Davies
I first encountered Tim when he was one of the people who interviewed me for my job at ROE in 1986. Over the years I knew him as a gifted astronomer able to 'think outside the box', a key member of the UKIRT team, an inspirational speaker on astronomy to anyone, of any age, who wanted to listen and a devoted husband and father. To me, most of all, he was my friend. The news of his sudden, so unexpected, death sent an icy dagger to the centre of my soul. Tim gone, it was impossible. When I saw him only a few weeks ago he was so full of life, so full of energy, so full of fun, so Tim. Surely any moment now he will put his head around my door and, before I can even begin to answer his question, will ramp off at 145 degrees about skydiving in South Africa or snorkeling in Hawaii or trying to get a taxi at 2am in Tokyo the day after an earthquake, or something.
I never understood how anyone could be so clever, so well rounded and yet so disorganised. A simple taxi ride from ROE to the airport turned into a marathon. Late leaving followed by 'Oh can we just go to the hotel to pick up my case, followed by 'let me hop out and get some Marmite to take back to Hawaii, followed by 'I don't have any cash, there's an ATM in Morningside', followed by 'My card is stuck, let me get my penknife so I can lever it out'. We made the flight, by a couple of seconds, after a half hour trip that seemed to take about 5 years. The next day I walked into a conference room at BAe, full of enginering directors wanting to know about POIROT. I turned around, no Tim. His insides were jetlagged and he'd got lost on his way to the toilet. This man is going to revolutionise IR astronomy? Well, yes actually, he probably did.
POIROT became Edison, then Edison became history. Soon after I followed Tim to Hawaii where we engaged in a little one-upmanship in the Aloha shirt department. Thanks to my complete lack of any satorial judgement I usually came out on top, probably the only thing I could ever do better than him. After almost a decade in Hawaii first Tim, then I, returned to ROE. To new challenges. Once again we found ourselves part of another cutting edge project, OWL. Tim went at it with his usual optimism, determination and enthusiasm. He provided wide-ranging technical and scientific input. I watched, in awe.
Tim retired, sort of. He still came by my office, sometimes to do some research but more often to talk to children in the visitor centre. I bet he was great at it, in fact I know he was. From time to time Maggie and I would visit Tim and Frances for a meal. It would inevitably be an hour behind schedule and, equally inevitably, be great fun. Now he is gone and the world has become a less interesting place. I will miss Timothy G. Hawarden. I will miss his company. I will miss his advice. Most of all I will miss his boundless energy and unremitting cheerfulness.
Aloha Tim, enjoy paradise.
---
From: Nick Rees
My best memories of Tim come from the upgrades programme. The simple truth is that the Upgrades programme was Tim Hawarden's idea, it was his baby and we were bonded together with some special sort of Tim glue. I don't know how he makes it, but it is extremely rare and springs from his eternal willingness to have a heated discussion on just about anything, tempered with his incredible support for his fellow workers and a true generosity of spirit that is unmatched in my experience. This generosity is not just simple material generosity (but there is plenty of that), but is a true generosity of spirit which ensures everyone is acknowledged and shares the credit for the work, and his genuine concern when you have a problem with anything at all.
However, Tim was not just the upgrades programme. In his time at UKIRT he also contributed hugely in ensuring that we understood our photometric calibrators, and it always amazes me that whilst he was in the middle of Upgrades he also seemed to be revolutionizing space-based infra-red telescope design. The latter was in the form of the Edison project, a proposal for a passively cooled infrared telescope. The proposal may have failed, but I don't believe there will ever be another HST - all future optical/infrared telescopes will be passively cooled, Edison was the first and so that is where all the initial ideas came from - i.e. Tim. This may sound technical, but it basically increases the telescope lifetime by a factor of 5-10, or reduces the cost per image by a similar amount, so it is nothing to sneeze at.
---
From: Frossie Economu
I'm not sure what I can say about Tim that hasn't been said already - what with his engineering accomplishments and his bouillabaisse justifiably praised. The only other thing I can think of is the fine sense he exhibited in marrying Frances, who is an amazing lady. Our thoughts are with her.
I'm sorry I can't be there either in person or in spirit (I will be on a plane) but my condolences to the family, especially Sam.
Aloha,
Frossie
---
From: Michael Werner
I was sorry to learn of Tim's death. Those of us who have worked successfully on the Spitzer Warm Launch mission are cognizant of the fact that Tim's pioneering work on radiative cooling helped set the stage for Spitzer.
---
Memories of Tim from Harley Thronson
November 24, 2009
Tim has never been far from my thoughts – and almost-constant good wishes to him and Frances – over the two decades that I knew him.
In part, this is only natural, as professionally I have been associated over the years in a number of ways with the James Webb Space Telescope. Tim's breakthrough realization in the 1980s was the key insight in making this "flagship" observatory possible.
In other ways, my thoughts often turned to Tim, his family, and his colleagues in Edinburgh, as we met and began our collaboration when I was on a delightful sabbatical at ROE, to which I have returned a handful of times.
But importantly to me personally, Tim was often on my mind in the way that he embraced his friends, shared our company, patiently educated us about his (now widely accepted) 'crackpot' ideas, and seemed to end every day excited about the day to follow. When we – Tim and I, John Davies and Alan Penny, and a handful of others – had a frustrating day of trying to convince another roomful of skeptics, in the evenings Tim would keep us up late with a good Scotch that emerged from somewhere. By morning, with only a few hours of sleep (thanks to Tim), he reappeared – invariably a bit late – with neatly laid out responses to yesterday's critics, ready to have at it all over again!
As the better I got to know him in the early 90s, the controversies that Tim and the rest of us got into over infrared telescope design really did not seem to be a fair match. Tim Hawarden, with his notebooks and a few close colleagues, arrayed against JPL engineering staff, with their sophisticated computer models, supported by senior American and European academic astronomers. It wasn't fair . . . it really wasn't fair . . . and I felt so sorry for them, when Tim entered the room.
I remember Tim as wearying, delightful, intriguing, challenging, frustrating, brilliant, a dear friend, and surpassing companion.
The world is a bit less interesting, a bit less engaging, without Tim in it.
I shall miss him greatly.
---
Our Dear Friend Tim - From Terry Lee
As I'm a man of few words, Tim was one of many: in their quantity, their quality and their volume. Part of his role as the Edinburgh end of UKIRT was to convert my reports to the user committee from turgid and convoluted prose in to something comprehensible and compelling. For Tim to become fully conversant with infrared observing and with operations in Hawaii we needed protracted and uninterrupted discussion. At the time we inhabited the Leilani Street office which was a poor environment for this. We were thus forced to adjourn to a more suitable place, namely the beach. Here we were left undisturbed to grapple with the various intricacies of infrared astronomy, users, budgets etc and each others thought processes. Occasionally we would take a break and spend a bit of time free diving. Tim with the advantage of having lived near the Indian Ocean was very adept and would find flora and fauna in rocks and cracks for me to then dive down and look at. In time with some tips from him I was able to improve my own skills. We found this way of working to be effective. I treasure the memory of those days with Tim
Tim left his mask and fins at our house to use on successive visits. He extended his ocean craft coaching to the rest of the family. From him Min learned how to clear her snorkeling mask properly and thereby become much more comfortable in the water. Over the years she has enjoyed snorkeling in so many places in the Pacific and Indian Oceans. Form time to time Tim would stay with us. On a couple of occasions he exercised his skill as a paramedic. He arrived one evening Min was suffering from a horrendous bout of bronchitis. Tim swept away all protest and insisted on taking us down to Ruben's Restaurant. There he ordered jugs of Margaritas. By the end of the second jug Min's bronchitis had disappeared. Today Min uses a version of that combination of tequila and citrus adapted to our climate to combat infections of the respiratory tract. The second time was when Kieran fell off his bike. Tim calmed him down and carefully removed the gravel piece by piece from his knees. That was minutes before Min and I were due to depart for a wedding, that of Wes and Verna. Thankfully we were able to go to the wedding and not the Hospital emergency room.
Tim liked his beer as I did mine, though what was available in Hilo was far, far inferior to the ale in the Diggers or the Canny Mans did we go out for a few from time to time. This could become a bit complicated after 9pm in Hilo. At this time a mismatch arose between Tim's sartorial preference and local rules, at least in the bars we deemed wise to frequent. Though his shorts might just make the grade you were not allowed to be served if you wore rubber slippers or even sandals. At first we overcame this by me being served two but in later years with Regan's anti booze laws lining up drinks became illegal.
The science of telescopes, as much as the science you use them for had brought Tim to a career in astronomy. This thread continued throughout his professional life. Tim's greatest contribution, to my mind, was the UKIRT upgrades program which saw the telescope absolutely fulfill its potential and become the infrared telescope. While others have ideas, Tim had ideas, thought them through and acted. With his infectious enthusiasm he involved others and let them play their part.
Working with Tim was not work, it was discovery, it was convivial it was fun, it was special.
Terry Lee November 2009
---
From: Jane Greaves
I have mostly quirky memories of Tim. Like how excited he was when that NASA shuttle pilot visited ROE, and they spent a happy time together puzzling out some of the library manuscripts in Latin! And a revolting story (!) about his army service, when his wilderness-training group got lost, and they ended up strangling a sheep and eating it raw... the things Tim could turn his hand to never ceased to amaze us all, I suppose!
---
From: Peter Hastings
My earliest memory of Tim was in the early 1990s. I was summoned to the office of Donald Pettie, the Chief Engineer. When I arrived Donald and Tim were in animated discussion about a telescope for use in space and I was dragged in to do thermal calculations for it - using the state-of-the-art Lotus 1-2-3 spreadsheet technology. What struck me most was that Tim had not only a huge breadth but also depth of knowledge on all sorts of subjects. He was developing this idea for a radiatively-cooled telescope in space which could do infrared astronomy unburdened by the bothersome atmosphere. As he talked it became apparent that he not only knew what it was for, how it could be done, why it was better, what the snags were likely to be...you get the picture.
In the following years I knew when Tim stuck his head round the door of my office I was going to be in for a rousing hour or two, thrashing out the pros and cons of some brainwave of his. I am deeply honoured that he thought I was worth bouncing ideas off. One more light has gone out on Blackford Hill.
---
From: Russell Cannon
I'm not sure when I first met Tim but I was aware of his work on old star clusters by 1970, when I was external examiner for his MSc Thesis "Photometry of Melotte 66" at the University of Cape Town.
A few years later I was very pleased when Tim accepted an appointment to join the fledgling UK Schmidt Telescope Unit, just as we were getting started on the Southern Sky Surveys. He landed in Coonabarabran early in 1975, on the same day (date?) as Andy Longmore. The arrival of two young postdocs represented a 50% increase in the observing team and transformed what had threatened to be an overwhelming task into an exciting research project. Their first move was to convince me it was time to get on with the real sky surveys and stop for ever trying to improve the UKST performance. I also learned invaluable project management lessons on the importance of having enough people and how to delegate.
Later we used the new 3.9m AAT to investigate many peculiar and interacting galaxies. In those days we could win time on the best telescope in the southern hemisphere by simply saying we wanted to take spectra of interesting galaxies discovered on Schmidt plates, randomly selected from a database that consisted of a box of Polaroid photographs.
Tim and I maintained our interest in star clusters for several years, writing drafts of a never-published paper on "New distant globular clusters discovered in the UKST Sky Survey": the problem was that while the list grew gradually longer, the number of "new" objects stayed roughly constant as our ESO rivals kept publishing their discoveries piecemeal.
In those days there were many black magic recipes for hyper-sensitising photographic plates, to enable the exposure times of hours instead of fractions of a second that were necessary to record very faint astronomical objects. Our favourite method involved baking the plates in an oven, in an atmosphere of hydrogen gas. There were few Health and Safety regulations back then but some of our staff worried about the explosive potential of this technique. Fortunately Tim had learned a bit about how terrorists could destroy power line pylons during National Service in South Africa so he undertook some simple experiments. He demonstrated - at a safe distance - that igniting the gas might blow the lid of a can of plates but was unlikely to produce a general conflagration.
One other fond personal recollection was when Tim and I were attending an IAU Symposium on globular clusters in Victoria BC in 1979. I'd just arrived at the start of a sabbatical year with a young family who were stuck camping in the rain because there was virtually no rental accommodation available. For some reason Tim accompanied us on a visit to the only property we could find, in a beautiful location but very remote and totally unsuitable for a family (the advert even said "no children or pets"). It was really a summer house with an enormous living room but only one bedroom, its own beach and spectacular views. We were swithering and so was the agent but Tim just said "Take it, you'll have a wonderful time and remember it for the rest of your lives", all of which turned out to be true.
Tim was a great colleague with a rare breadth of knowledge and experience, but most of all I appreciated his boundless enthusiasm. He was always quick to spot the essence of a problem and never indecisive in finding a solution (although not invariably right). We could talk for hours on many topics - it's hard to believe there won't be any more such conversations.
---
From: Gillian Wright
Tim has been my friend, mentor, colleague, collaborator throughout my career. He had a wonderful knack for accepting people as they are and including them in his life.
Tim took a dim view of someone who couldn't swim planning to live in Hawai'i and so somehow persuaded Frances she should teach me to swim in the Commonwealth Pool - the begining of a great friendship. I did learn to swim (mostly), enough to enjoy snorkelling in the calm tidal pools round Kapoho, but he never managed to persuade me even to attempt the Tim safety test: Sit in the deep end of the swimming pool, remove mask and snorkel, stay there for some Tim determined time, and then by some magic come up alive and breathing.
Tim examined my PhD and gave me a hard time with a thorough discussion of the dynamics of disks and bars in galaxies. This was something he never ceased to enjoy teasing me about whenever the opportunity arose. Over the years we've debated telescopes, instruments and galaxies - dust, H2, bars, interactions. Sometimes those discussions led to something important enough to be jotted down on the to-do list on the back of Tim's hand - his recommended method for organising the day.
I will miss Tim's enthusiasm and encouragement very much. Even after retirement he would bounce into my office in the late afternoon full of enthusiasm to catch up on news of JWST and talk about MHE galaxies - inevitably I'd be late home for dinner, hungry but smiling. To work with and to know Tim was always fun.
---
From: Alan Bridger
I've been privileged to have known Tim for over 20 years, and like so many others have always found him to be a source of great entertainment and hugely enjoyable discussions, whether it was that the ELT won't work (I'll never tell) or drawing comparisons between atmospheric turbulence and convection in stellar envelopes. His bouncy enthusiasm simply pulled you into his World.
One of my early memories is discovering our shared interest and fascination with archaeology. Tim lent me the book "Tomb of the Eagles" (by John Hedges), a wonderful account of the discovery, excavations and understanding of a Neolithic chambered tomb, on South Ronaldsay in Orkney. Of course, I had to see it. Finally I did, a few years ago, and being fortunate enough to enjoy touring the site with the discoverer himself. The trip extended out to the remote Knap of Howar (Neolithic farmhouse). It was later wonderful sharing my experiences with Tim over a bowl of his excellent bouillabaisse.
We frequently talked archaeology or science fiction, sharing more books, and the occasional dram, but that one simple book-lending remains in my mind. I will miss Tim.
---
From: Duncan Waldron
It was a substantial shock to read this evening of Tim's death; I was thinking about him a couple of months ago - for no particular reason other than having had an unexpected, pleasant memory of a former colleague with a rare, engaging enthusiasm - and wondering if he had moved into happy retirement yet. I knew Tim only a little, as a then new recruit to UKSTU shortly before he moved to UKIRT, and can offer few anecdotes or memories. I do recall answering an ad for a housemate some time in 1980, then recognising Tim's voice on the other end, pausing, and thinking "this probably won't work." However, I went round for a chat nonetheless, with my overriding memory of the occasion being his great stash of empty coffee jars beside the cooker. The question still remains: "why?"
Many years later, I arrived at Hale Pohaku for 2 weeks' photography, and stopped in my tracks at the sound of a booming "wilkommen!" His welcome was typically enthusiastic, when it could so easily have been a casual nod or hello for someone he hadn't seen in years and who had been involved with him only peripherally. No, that wasn't his way, and the world is all the poorer for the passing of someone with so much still to give; it's a crushing loss. My next malt's in your name, Tim.
I extend my sincere sympathies and condolences to Tim's family, friends and the many colleagues closer to him than I ever was.
life's tireless work and play
joys held and shared -
jewels set in indigo
Duncan Waldron
Photographer, UKSTU 1980-95
---
From: Bill Parker
I knew Tim only in my final years at UKIRT. I didn't know him well, because I was an Engineer, he was a distinguished astronomer and we didn't have much contact, but he was a very pleasant person to know and I am very sorry he has suffered an untimely end.
---
From: Karen Moran
Tim was one of ROE library's staunchest supporters. He was also very good at negotiating more time for overdue titles, which I could not refuse!
I will miss his upbeat, cheery visits to the library.
---
From: Bruce Wells
I heard the sad news from a mutual friend from university days, I can fill in some gaps from Tim's early days. Tim, Peter Warren, and I were close friends in high school and did the things which seemed most natural to us, that is we made gunpowder, primitive guns and bombs, rockets and finally we built telescopes. Although we were very carefull with the incendiary mixtures we could easily have ended our careers and destroyed our mother's kitchens before ever getting to the telescopes, a salute in passing to brave mothers. Our favourite rocket fuel was sugar/saltpetre gently melted to a toffee-like consistency on the stove and poured into the rocket case around a rod to form a hollow core. Some rockets roared up, but many sat obstinate on the ground and filled the valleys around Pietermaritzburg with smoke, Tim would be game to try again.
Grinding mirrors meant a patient ritual circling a six inch glass blank while grinding the glass with a second blank and successively finer grades of carborundum. Polishing the glass meant making a sort of cushion of pitch melted with beeswax,the fumes were heady but slowly the Cerium oxide polishing powder, embedded in the pitch, cleared the smoky glass. To perfect the parabola we had to set up pinhole light sources, intersect the reflected light beam with a razor blade and make sense of the fringes of light and dark. Peter's father was a professor of chemistry so we had unofficial access to laboratories where we could silver the mirrors, gently rocking them in the silver nitrate solutions clouded by the reducing sugars. I was fascinated by the processes, but Tim wanted to get on and use the telescope so he finished his telescope and I still have my mirror, from all that I read this energy and enthusiasm was a lifelong characteristic.
Bruce Wells
Pretoria, South Africa
---
From: Ian Bond
I was very saddened to read the news about Tim, which I just came across by chance. I was at ROE from 2002 to 2004 and I had a little side project searching for extrasolar planets using microlensing. I would often chat about this with Tim and he would be genuinely exited about and this excitement was infectious. This sums up Tim for me - he made everyone feel that what they were doing is important. And a great bloke too!
Ian Bond
Institute for Information and Mathematical Sciences Massey University Auckland, New Zealand
---
From: Jonathan McDowell
I was an undergrad summer student at ROE in 1980 and 1981;
I remember Tim as the 'force of nature' that Matt described, but always also generous and patient explaining things to a junior scientist-wannabe. I was very sad to hear that we have lost him.
- Jonathan
---
From: Dr Peter Warren
Bruce Wells has more or less told of our miss spent youth and gun powder. How my chemistry professor father allowed us access to such dangerous materials I cannot now fathom. But some activities were more productive and less hazardous. We ground telescope mirrors together, struggling with turned down edges, and spent hours scanning the heavens for open clusters. Then we were at university together where Tim would complete one Physics practical in three, turn it into a mini thesis, and have these master pieces compared with my own mundane attempts at completing all of them. However that is not the way the education system works, it wants you to superficially address all the topics and complete all the assignments. It took Tim longer than the minimum time to complete his degree and Tim stayed on at Natal, while I went to the Royal Observatory Cape Town and then onto Cambridge. Tim went later to the ROC, pioneered the Sutherland site and he was well established when it transformed into the South African Astronomical Observatory. This is when he did his Ph D on the same open clusters that we played with as schoolboys. I joined the SAAO from Cambridge on the South African staff, while Tim was a member of the SAAO as part of the UK contingent, and thereby made his way into the UK astronomical establishment and an illustrious career. He has the last laugh at the expense of the educational system. I left astronomy and lost contact with Tim and his doings.
Just recently I was wondering how my long lost friends were getting on and looked him up on Google, and was saddened to read about the loss of one of my closest childhood friends.
---
From: Harold Corwin
News of Tim's sudden death, as with anyone our age (he was just six months my junior), comes as a shock -- we're too young! But here it is, youth or not. My sincerest condolences to his family and his many close friends.
Tim and I got to know one another at ROE in the mid-70's when I was a post-graduate student, and he a young PhD on the rise. My fondest memories of Tim always include his abundant humor and keen wit. We spent enough time together in the plate library that we and a couple of others came up with a "survey" of NGC 5128-type galaxies. Though I wasn't sure I merited a co-authorship, he persisted good-naturedly until my resistance crumbled. We stayed more or less in touch over the years, with me marveling at the breadth of his experience and knowledge, and the subsequent flowering of his career in Hawaii and then again in Edinburgh. I saw him last here in Pasadena just a couple of years ago. If we couldn't do lunch or dinner, he always made time in his busy schedule for a few afternoon minutes of catching up and reminiscing.
The obituary in the Scotsman, and at least one of the tributes on this page, alludes to an incident that perfectly captures Tim's spirit. He told this story with obvious relish, and probably with some embellishment; others who know it can modify the details to fit their own recollections of his tale. Here are mine: While still a young man in South Africa, Tim was an avid sky diver. Gliding in on his parachute one day, he missed the mark -- the grounds of his club near the airport -- by "just a few meters. Well, maybe more than a few ..." He crashed through the roof of the clubhouse, miraculously missing rafters and beams, then through the ceiling. He stopped, his feet less than half a meter off the floor, swinging gently in his parachute harness directly in front of the bar. His vivid recounting of the moment has the wide-eyed black barman, covered in plaster dust, simply staring at him. Tim, equally astonished, reacted as only he could: He simply ordered "A cold Castle, please." The dazed barman drew the beer without a word, then offered it to Tim -- who at that instant was hoisted back through the ceiling on a gust of wind. Astonishingly, neither Tim nor the barman was seriously hurt in the incident; both later that day enjoyed a beer -- "on the house!"
---