UKATC Engineers spark NASA Engineer's Curiosity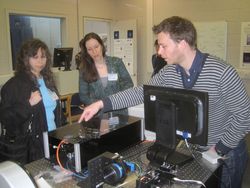 On Friday 19th April Nagin Cox, a senior engineer at the NASA Jet Propulsion Laboratory in California, visited the Royal Observatory Edinburgh and was treated to a whistle-stop tour of some of the work carried out by the UKATC. Ms Cox, who works on the NASA Mars Science Laboratory rover 'Curiosity', is in the UK as part of a 3 country speaking tour whilst Mars is in conjunction (behind or close to) the Sun and work with Curiosity is not possible because radio communications are disrupted.
Nagin enjoyed a tour of the Crawford Laboratory, where she heard from UKATC engineers about their work on image slicing units for the Mid Infrared Instrument for the James Webb Space Telescope and KMOS for the Very Large Telescope. We also explained our adaptive optics research, demonstrated our robotics and fibre optics projects for multi-object studies, and the Innovation group described their activities on Earth observation projects such as Cubesats and an instrument to be carried on a NASA Global Hawk Unmanned Aerial Vehicle.