2014 ROE Open Days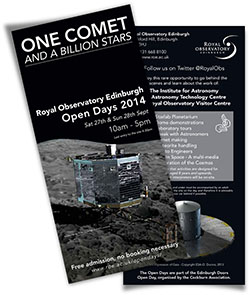 One Comet and a Billion Stars
Sat 27th & Sun 28th Sept
10am - 5pm
Last entry to the site 4.30pm
The theme this year is inspired by the Rosetta Mission that has reached Comet 67P/Churyumov-Gerasimenko and the Gaia mission. Gaia's mission is to produce an astronomical catalogue and data archive of unprecedented scope, accuracy and completeness.
Open Days Flyer 2014 [PDF/154 KB]
Starlab Planetarium
Dome demonstrations
Laboratory tours
Speak with Astronomers
Comet making
Meteorite handling
Talk to Engineers
Lost In Space - A multi-media exploration of the Cosmos
Please note that activities are designed for children aged 8 years and upwards.
BSL/English interpreters will be on-site.
All children aged 16 years and under must be accompanied by an adult. Parking will be very limited at the site on the day and therefore it is advisable to leave your car behind if possible.
Free admission, no booking necessary
---
Events Timetable
Starlab Planetarium Shows
Wonder at the night sky above you!
There will be planetarium shows throughout the course of the weekend. They will be ticketed and will be at the following times:
10:30am
11:15am
12:00pm
01:30pm
02:15pm
03:00pm
03:45pm
04:30pm
Tickets will be available from the library. Tickets for the shows before 1:30pm will be available from 10am, and for the shows after 1:30pm they will be available from 12:30pm. Tickets will be issued on a first come first served basis and there will be a maximum of 5 given to any one person.
All Starlab Shows will be BSL interpreted
---
Comet Making Shows
Come and see what ingredients make up a comet! Shows will be at:
11:00am
11:45am
01:15pm
02:45pm
04:15pm
No need to book for these shows. All these shows will be BSL interpreted.
---
LOST IN SPACE
A multi-media exploration of the Cosmos
Andy Lawrence (Regius Professor of Astronomy) and Matt Giannotti (New York/Edinburgh composer) get us lost in space using pictures, video, music, voice, and interactive technology. The first half of the event will involve interactive displays exploring the immensity of the Milky Way, galaxy collisions, and the relation between musical pitch, colour, and the temperatures of the stars. The second half will be a presentation exploring the violence of the universe and the fragility of our place within it.
The event will last 40 minutes and shows will be at:
11:00am
12:00pm
01:30pm
02:30pm
03:30pm
Tickets will be available from the canteen and entrance to the show will be by the library.
---
Go behind the scenes and learn about the work of The Institute for Astronomy, The Royal Observatory Visitors Centre and The UK Astronomy Technology Centre.
The ROE Open Days are part of the Edinburgh Doors Open Day, organised by the Cockburn Association.