2013 ROE Open Days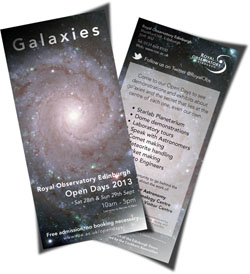 Galaxies
The ROE Open Days for 2013 took place over the weekend of the 28th and 29th of September.
The theme this year was Galaxies.
Open Days Flyer 2013 [PDF/191 KB]
Thanks to all those who attended. We had 3500 visitors over the weekend. We hope you had an enjoyable time.
We had a kids quiz and the result is in:
Ailsa, age 8, from Edinburgh.
Part of her prize was tickets for her to come with her family and see Cmdr Hadfield. She also won various UK Space Agency goodies (a t-shirt, postcards, a bag, pencil) and some European Space Agency goodies (a keyring and stickers) and a family ticket for one of our Public Astronomy Evenings.
The Winning Drawing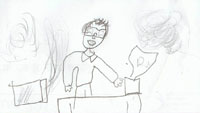 A very nice drawing from Ailsa
Well done Ailsa we hope you enjoy your prizes.
---
Go behind the scenes and learn about the work of The Institute for Astronomy, The Royal Observatory Visitors Centre and The UK Astronomy Technology Centre.
The ROE Open Days are part of the Edinburgh Doors Open Day, organised by the Cockburn Association.