Home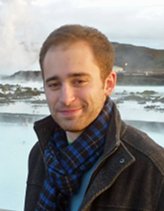 I'm currently an
1851
research fellow based at
Edinburgh University
. Previously, I held a research fellowship at
Jesus College
,
Cambridge
, and was a member of
DAMTP
, the
Kavli Institute for Cosmology
, and the
Astrophysics Group
of the
Cavendish Lab
.
Broadly speaking, my
research
explores the tangled relationship between gravity (curved spacetime) and energy. During my
PhD
I developed a new description of the energy carried by gravitational waves. More recently, I have been examining whether a feedback mechanism (where curved space induces negative energy in a quantum field, and this energy keeps the space curved) could stabilise a
wormhole
. A list of my
publications
is available for your perusal.
I spend some of my spare time writing
plays
. On an unrelated note, my
Bacon number
is
4
.
Contact Details