Higgs Centre for Innovation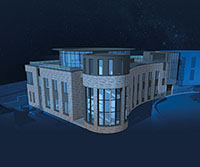 The Higgs Centre for Innovation includes a new business-focussed facility specifically for supporting startups and SMEs working in the space and data-intensive sectors.
Run by the Science and Technology Facilities Council in partnership with the University of Edinburgh, the Higgs Centre for Innovation is a UK Government facility supporting commercial growth regionally and across the UK. Alongside academia it will house a Business Incubation Centre (BIC) and a suite of dedicated Facilities, helping remove barriers to growth for companies in space and big-data.
The BIC is part of the European Space Agency (ESA) BIC UK*, CERN BIC, and UK Space Agency (UKSA) BIC networks. Facilities will include a suite of dedicated Micro- and Nano-Satellite Test equipment in purpose-built cleanrooms, as well as big-data support capabilities. Based at the Royal Observatory Edinburgh, the new building is co-located with the UK Astronomy Technology Centre and the University of Edinburgh's Institute for Astronomy. We actively encourage collaboration opportunities from Industry to work with us, gaining access to decades of world-class remote sensing and data analytics expertise.
Business Incubation Centre
Want to work with us?
We will open application rounds quarterly throughout the year.
Keep checking back to find out more, or follow the UK Astronomy Technology Centre Twitter account @ukatc to stay up to date.
Please click the following link for more details about the Business Incubation Centre.
If you are a business (of any size) and would like to collaborate with us on a project, please follow the link for details: Collaboration
If you are a startup and looking for business incubation, please follow the link for details: Business Incubation
We also have a growing range of facilities and expertise available to SMEs and the wider business community. Companies working in the Higgs Centre have access to the experience of the UK Astronomy Technology Centre and the University of Edinburgh, as well as a wide range of skills and technology through STFC's National Science and Innovation Campuses at Harwell (near Oxford) and Daresbury (near Warrington).
* ESA BIC UK affiliation starting January 2018, subject to formal written agreement.